Fundraising
Interested in doing a Charity Wash? 
In & Out Car Wash's fundraising program is designed to help your organization raise money quickly and easily while providing the community a service they need. Though washing cars in the school parking lot might sound like a good way to make money for your organization, you may not realize that road dirt and all soaps and the water used washing those cars will end up in our creeks and lakes via the storm water system. This system is only meant for rainfall, storm water flows directly into the creeks and streams. All our water flows through our settling tanks and then into the sanitary sewer where it is treated and reused. We also use a lot less water; on average we use 1/3 the water to wash a car than you will when doing a parking lot fundraiser car washing.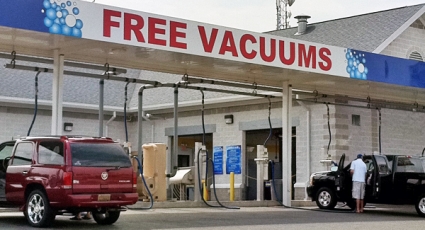 Who Qualifies
Schools
Community Projects
Churches
Local Service Clubs
Athletic teams
Any Non-Profit Organization
How it Works
It's pretty simple…
In & Out Car Wash will issue your organization a unique four (4) digit code.
Share this code with friends, family, business contacts, acquaintances, and anyone who owns a car.
Your supporters will press "FUNDRAISING CODE" on the auto cashier touch screen when they arrive at the wash
They enter the four (4) digit code on the screen to buy a  wash.
Pay with Cash or Credit Card.
Your group receives 25% from every wash!
After the fundraising month expires, In & Out will issue a check made payable to your organization.
How Your Organization Benefits
Quickly raise large sums of money for your organization.